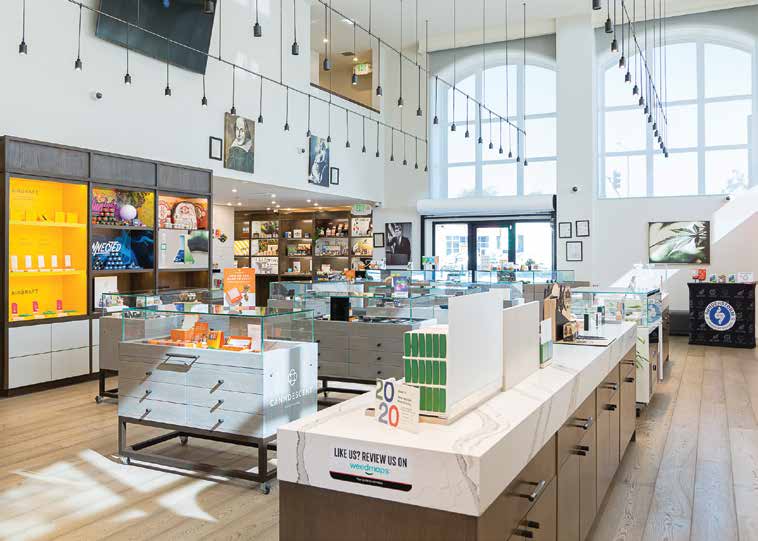 (818) 810-7379
Woodland Hills
5441 Topanga Canyon Blvd
Atrium Says Thanks: December 19th! All Day Deals and Giveaways, PLUS Baller Bags for Orders $200
Welcome to Atrium–a new way to experience cannabis. Atrium proudly serves the Woodland Hills, Tarzana, and Canoga Park community with premium quality cannabis products at a competitive price. At Atrium, we strive to bring you the finest curation of products to enhance and improve your life, whether it be through an emotional, spiritual, or medical approach.
The Atrium team is committed to delivering exceptional customer service and go above and beyond to please our customers. We encourage customers to come in and speak with our friendly and knowledgeable staff to find out what form of cannabis best suits your needs. 
Atrium Says Thanks: December 19th! All Day Deals and Giveaways, PLUS Baller Bags for Orders $200
WE NOW OFFER DELIVERY!
DAILY FROM 8:30AM - 9PM!
Delivering to surrounding cities!
Before placing your order, please be advised that delivery hours are 12pm-9pm daily. Any order placed after 6pm, will be delivered during the next business day. Please be advised that there is a $5 service fee, along with a minimum and a delivery fee. Take a look at the list below to see the details for your area. (No BOGOS or VIP discount cards are applicable for deliveries, only daily deals are applicable)
DELIVERY ZONE: We deliver to surrounding cities of Woodland Hills CA. Here's a list of cities within our zone; Woodland Hills, Calabasas, Topanga, Hidden Hills, Agoura Hills, West Hills, Tarzana, Encino, Reseda, Canoga Park, Winnetka, Van Nuys, Northridge, Porter Ranch, Chatsworth, Sherman Oaks, and Lake Balboa.
Delivery Service Fee: $5
Woodland Hills: $50 minimum , $5 delivery fee
Calabasas: $100 minimum, $10 delivery fee
Tarzana: $75 minimum, $5 delivery fee
West Hills: $110 minimum order, $10 delivery fee
Agoura Hills: $110 minimum order, $10 delivery fee
Topanga: $100 minimum order, $10 delivery fee
Encino: $75 minimum order, $5 delivery fee
Van Nuys: $75 minimum order, $5 delivery fee
Reseda: $75 minimum order, $5 delivery fee
Northridge: $100 minimum order, $10 delivery fee
Ask about our Customer Loyalty Rewards Program 
Sign up with one of our staff members and receive exclusive daily discounts and deals! Atrium offers discounts to seniors, veterans, and active duty military. We require a valid photo ID for eligibility. 
We appreciate your service and look forward to providing you with An Elevated Cannabis Experience. 
DAILY DEALS: 
Munchie Mondays: 15% off edibles! MOON edibles are BOGO for $1! MARY'S MEDICINALS: Buy ANY Mary's Product, get a patch for $1 While Supplies Last.
Tincture/Topical Tuesdays: 15% off topicals and tinctures! PAPA & BARKELY products are BOGO 50% off! Buy 1G PUREXTRACTS. get .5G Preserve for $1!
Vape Cart Wednesday: 15% off vape cartridges! PLATINUM VAPE: Buy a PV vape cart, Get a PV vape cart for $1! While Supplies Last.
Thirsty Thursday: 15% off infused drinks! JETTY EXTRACTS products are BOGO for $1! PLUS: BOGO for $2 -(Up to $16 value) While Supplies Last!
Flower Friday: 15% off flower! LEGION OF BLOOM: BOGO for $1! FARM2LAB: Buy an 8th, Get a pre-roll for $1! While Supplies Last.
Shatterday: 15% off wax! ROVE: Buy any Rove Cart, Get a .5g Cart for $1!
Sunday Funday: 15% off pre-rolls! PAX pods are BOGO for $1 (Includes: Jetty Extracts & Legion of Bloom)
Please refer to our website for our extended menu and a full list of deals!
*All prices are before tax*
*Not taking First Time Customers after 9:45 PM*
License #A10-18-0000322-TEMP